"The best thing you can do today, is anything you do for someone else."
- Marke Freeman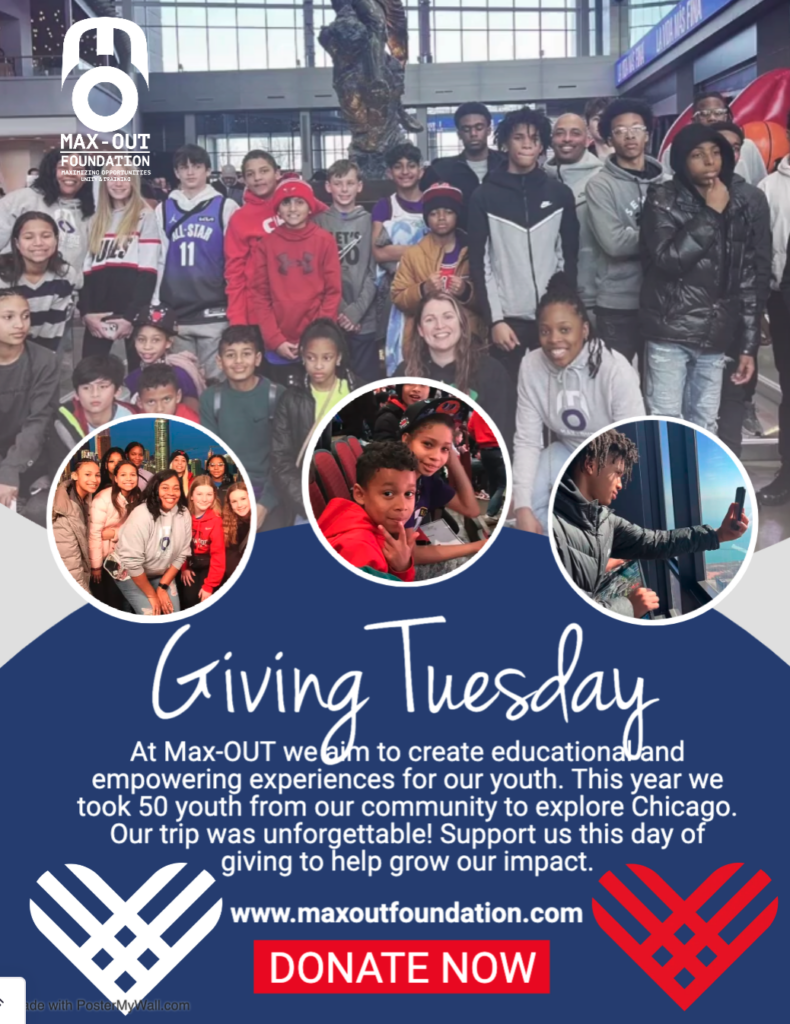 Max-OUT is short for "Maximizing Opportunity, Unity & Training". Over the last 10 years our mission has remained at the forefront of our service.
This includes our annual Game Day event. This year we took 50 of our youth to Chicago to hang from The Ledge of one of the tallest buildings in the world, tour the Willis Tower Museum, have lunch at the world famous Giordanos, catch the Chicago Bulls in action and more! Support us on Giving Tuesday and help us continue to live out our mission. Click the link in my bio to give! #MaxOUT #GivingTuesday #Support
The Max-OUT Foundation is celebrating our 10-year anniversary! Since October 2013, we've impacted over 6,000 families in Central Illinois through self-sustaining projects, youth extra-curricular activities, health education and teen empowerment.
To celebrate this milestone, we're hosting a 10-day digital campaign to raise funds and awareness for our mission. 
Each Tuesday, we'll spotlight a project or individual from each of our beneficiary categories – youth, family, and community – and share stories of the lives that have been transformed by our work. 
Our Celebration will run from Tuesday, October 3 – Tuesday, December 5. Follow us on social media @maxoutfoundation where you can join our impact.
Finally…mark your calendars! On Sunday, December 3 we'll be hosting our Solidarity in Style Soirée as a fundraiser to help drive our impact in the Springfield community and highlight our service over the last 10 years! 100% of the proceeds will go the underserved in our city through MOF. The evening promises to be filled with impact, inspiration, and celebration. Your participation will not only make this event more special but will also contribute to the success of our cause. 
Details for this event will be announced in upcoming weeks. During the event, we'll raise a glass to our incredible community of partners, beneficiaries, volunteers, and supporters who have helped us make a lasting impact in Central Illinois. 
With your help, Max-OUT Foundation can reach this goal and continue the work we've set out to do in our community.
Please help us impact our community. Every donation makes a difference. 
For more information contact us at support@maxoutfoundation.com or (773) 236-0088. You can also visit our website at www.maxoutfoundation.com
Your generosity can be the spark that ignites a brighter future for countless lives. Together, we can make a difference. Click the link below for details on how to become a part of this special cause.