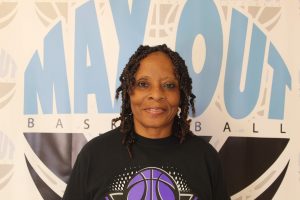 Executive Secretary of Max-OUT Foundation Racine Freeman is a graduate of Southern Illinois University Carbondale. She has been with Max-OUT since its most premature stages.
Racine adds tremendous value to the organization with her Administrative backgrounds yet her versatility managing community service, event managment, and both internal and external communication.
Director Charles Hopkins, has been a member of our Max-OUT family since 2012. He has provided community service to the Springfield community for over 20 years. He has a passion for the development of youth and the city that he was born and raised in.
Charles is a former Lanphier High School Track & Field star. He graduated from Western Kentucky University, where he became a college All-American still holding a number or records. He was an Olympic Trial Qualifier in the 100meter and was invited to the World University Games. Charles was a special athlete but was also and outstanding student. He has three degrees including an MBA in Human Resource Management. e h
Charles is a certified Advanced Personal Trainer and trains athletes ranging from 5 years of age to professions. Charles has coached several regional athletes, multiple NCAA qualifiers and he has also trained professional athletes such as Marke Freeman and Trevon Bellamy of the Washington Redskins. Charles has contributed to success of the Max-Out Fundamental Basketball Camp since day one, giving athlete's professional training to enhance their physical abilities and their confidence.
"We are very fortune to have Charles on our team. He adds unmeasurable value through his passion, experience and servants heart. He truly leaves every person he comes in contact with better than they were before" – President, Max-OUT Marke Freeman
For over 10 years, Rhavan (RJ) has been an active participant with the MaxOUT team. He first attended as a student of the program and because of his servants heart and leadership, he has become a foundation board member. The professional growth RJ has illustrated is one of many things that sets him aside and makes him a powerful asset to the MaxOUT team.
Coach RJ brings countless hours of community service as well as a passion for mentoring youth, committed to steering the next generation as a 21st Century Enrichment Teacher.
He is currently one of the primary percussionists at Pentecostals of Springfield. RJ states that, "its been a blessing to be a part of the team and loves being involved with kids and being a positive mentor for the youth of today".
"I can't say I know a more selfless individual.  For many years RJ has brought so much value to Max-OUT as a coach, assistant director, and mentor. I'm excited to see him continue to grow and impact the lives of those around him. We are so very fortunate to have him our our board." -President, Max-OUT Marke Freeman